We are committed to providing you with professional
solutions! Guided by the international and domestic markets, we will continue to develop and expand the scale of the company, improve the quality of products, and establish a complete quality assurance system and production management system. We insist that the quality standard of each product must be higher than the industry level to ensure that the product reaches a unified standard and quality.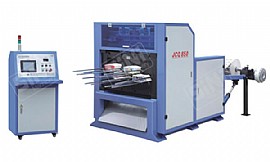 High Speed Punching Machine
Model: JCQ850
PRODUCT INFORMATION
Using automatic die-cutting technology, this high speed punching machine can perform direct paper punching through rolled paper cutting, die cutting and waste clearing. By eliminating the conventional slitting procedure, it greatly saves energy consumption, labor cost and work intensity. Our high speed punching machine is equipped with a PLC micro electronic control system to ensure high efficiency and precise operation. A built-in LCD visual man-machine interface displays working conditions and faults. This punching machine features a photoelectric tracing system which guarantees smooth paper feeding, precise positioning and orderly paper collection. With excellent performance, this machine is an ideal punching tool for disposable paper bowls and paper cups.


High Speed Punching Machine Working Condition

Operating Temperature: -1-35℃
Relative Air Humidity: Less than 85%
Fluctuation in Power Supply and Voltage: Within ±10%
Surrounding Condition: Keep away from flammable and corrosive materials and avoid violent shock.


High Speed Punching Machine Technical Specifications


<-------- Can Move Left or Right -------->
| | |
| --- | --- |
| Model | JCQ850 |
| Cutting Style | Punching style (for rolled paper) |
| Cutting Speed | 150-260times /min. |
| Raw Paper Material Specifications | 125-350g/㎡roll paper, width range: 360-850mm |
| Diameter of Roll Paper | < 1.5m |
| Paper Feeding Speed | >35m/min. |
| Compressed Air | 0.2m3/min., 0.5MPa |
| Length of Guide Roll Surface | 950mm |
| Main Power | 4kW |
| Total Power | 8.5kW |
| Weight | 3T |
| Main Size (L×W×H) | 2900mm×1400mm×1700mm |
| Electrical Box Size (L×W×H) | 700mm×700mm×1350mm |
HIGH SPEED PUNCHING MACHINE RELATED PRODUCTS