We are committed to providing you with professional
solutions! Guided by the international and domestic markets, we will continue to develop and expand the scale of the company, improve the quality of products, and establish a complete quality assurance system and production management system. We insist that the quality standard of each product must be higher than the industry level to ensure that the product reaches a unified standard and quality.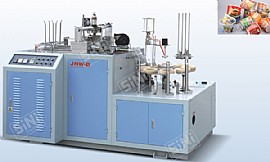 Paper Cup Sleeve and Closing Machine
Model: JNW-D
PRODUCT INFORMATION
Based on market needs, this paper cup sleeve and closing machine is designed and manufactured for producing paper cups and paper bowls. Various processing steps can be performed including, auto paper feeding, sealing, glue spraying, bowl and cup discharge, etc. It can provide photocell monitoring and failure alarm. Our paper cup sleeve and closing machine features high reliability and is easy to manipulate and maintain.


Paper Cup Sleeve and Closing Machine Technical Specifications
<-------- Can Move Left or Right -------->
| | |
| --- | --- |
| Model | JNW-D |
| Bowl/Cup Size | 6oz.,16oz.,20 oz., 30 oz., 40 oz., 50 oz., UNI-PRESIDENT bowl 1100, 980, MASTER KONG bowl 998, 460, etc. |
| Raw Material | Gray bottom white paper plate (200-300g/㎡) |
| Capacity | 35-45pcs/min. |
| Power Source | 380V 50Hz |
| Total Power | 4kW |
| Weight | 1000Kg |
| Case Dimension (L×W×H) | 2450×1260×2000mm |
PAPER CUP SLEEVE AND CLOSING MACHINE RELATED PRODUCTS