We are committed to providing you with professional
solutions! Guided by the international and domestic markets, we will continue to develop and expand the scale of the company, improve the quality of products, and establish a complete quality assurance system and production management system. We insist that the quality standard of each product must be higher than the industry level to ensure that the product reaches a unified standard and quality.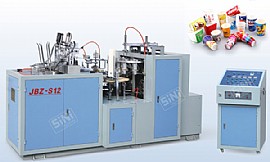 Double PE coated Paper Cup Forming Machine
Model: JBZ-S12
PRODUCT INFORMATION
With a high degree of automation, the JBZ-S paper cup machine is used to produce one side or two side film-coated paper cups. The formed cup can hold both hot and cold beverages such as soft drinks, coffee and tea, etc. This machine uses an ultrasonic sealing system, resulting in a sound welding effect, low energy consumption and high efficiency. It is built with a working station and can perform all the necessary cup making steps including, automatic paper feeding, ultrasonic welding, oiling, bottom punching, heating, knurling, curling and cup discharge.

Double PE coated Paper Cup Forming Machine Main characteristics


<-------- Can Move Left or Right -------->
| | | |
| --- | --- | --- |
| The alarming system adopts multi-position inspection and automatically gives an alarm when it tests any problem. | Strong, firm and precise gearbox and chain transmission system ensures the stable running. | Three strong shafts and two high quality springs are used to achieve a stable operation. |
| The machine adopts high-position stopping device, so that the machine always stops at the highest point, the mold and the heating furnace are fundamentally separated and the paper cup is prevented from being burned. | As for cup forming, a retractable knife is used for uniform bottom wrinkles, good sealing and low leakage. | The patented bottom rolling device provides 5 times embossing force of traditional rolling device. |
Double PE coated Paper Cup Forming Machine Technical Parameters


<-------- Can Move Left or Right -------->
Model
JBZ-S04
JBZ-S12
JBZ-S16
JBZ-S22
JBZ-S22 (supper size)
Specification of paper cup
2~6.5OZ
6~12OZ
12~16OZ
16~22OZ
22-36oz
Paper material
Single-sided, double-sided PE coated paper
Mouth diameter
50-80
50-95
50-95
50-95
90-120
Bottom diameter
35-70
35-70
35-70
35-70
70-90
Cup height
30-60
50-120
100-150
100-175
120-190
Bottom depth
≤10
≤10
≤10
≤12
≤12
Angle
4-6o
2-8o
2-8o
2-8o
2-8o
Rated productivity
40-50pcs/min
35-45pcs/min
30-40pcs/min
25-35pcs/min
Power supply
380V 50Hz
Total power
5KW
6KW
7KW
Weight
1600Kg
1900Kg
2000KG
Packing size(L*W*H)
2800×1350×18000mm
800×750×1300mm
2800×1350×18000mm
800×750×1300mm
3000×1450×1900mm
800×750×1350mm
3300×1450×2000mm
800×750×1350mm
3300×1450×2000mm
800×750×1350mm
DOUBLE PE COATED PAPER CUP FORMING MACHINE RELATED PRODUCTS